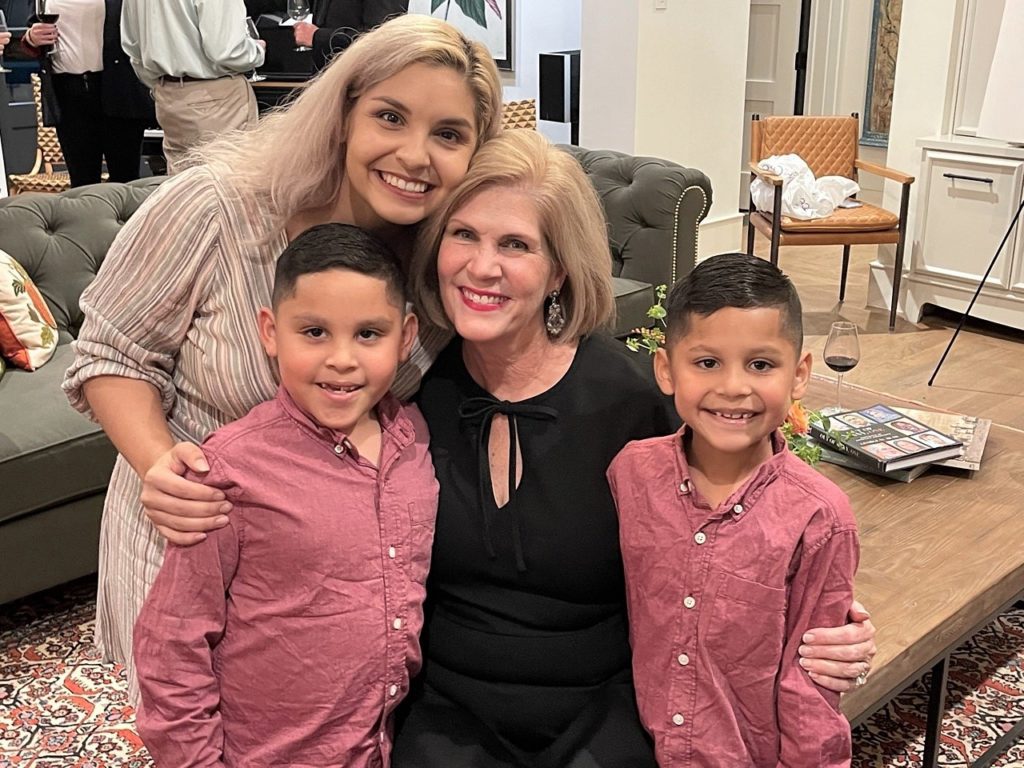 Honoring 17 years of extraordinary leadership
The phone rang at Thrive Women's Clinic late this summer. Most staff members had gone home for the day, so Executive Director Mary Jayne Fogerty answered. The woman was at the hospital, scared that she wasn't prepared to give birth to a preemie the doctors said was coming very soon. Fogerty, who is soon retiring after 17 years at Thrive, didn't take her number for someone to call her back.
"I'm coming," Fogerty told her. She packed up the tiniest baby supplies she could find from Thrive's baby store and headed to Parkland Memorial Hospital. She prayed with this expectant mom, discussed substance abuse, encouraged her, and pointed her to Thrive partners. "She just needed to be loved," Fogerty said. A follow-up call revealed this mom was doing well and had been connected with the help she needed.
This is why Fogerty still loves her job after 17 years: Every day, God brings us new men and women in pivotal points of LIFE who need to hear the hope of the Gospel. And, every day Fogerty loves watching God open new doors—from phone calls like that to larger expansion opportunities that could launch Thrive into new levels of Kingdom impact as an organization. "If He opens a door and you step in, He will be faithful," she believes.
After all, it's the same message Thrive brings to clients in the counseling room who are considering abortion: God has great things for you if you step out and put your trust in Him.
For Fogerty, it started when she was offered a position she didn't feel ready to take.
Author, model, mom
Before Thrive, Fogerty had a variety of different experiences. She graduated from the University of Texas, had three children, wrote a book, starred in commercials, worked in a school, and sponsored Cambodian refugees settling into Dallas homes. She fell in love with nonprofit work and took a job in development to join her sister at Thrive, then known as the Dallas Pregnancy Resource Center. She loved sharing her faith with clients in the counseling room. "I wanted the hardest, abortion-determined clients she says. "Why? I wanted to see God work." Thrive felt like the perfect place for her to serve—but to lead?
About 18 months after her first day at Thrive, the board asked her to become the new Executive Director. "l felt ill-equipped and wasn't sure I could do it," she said. But she stepped out, and has now served longer than any other leader in Thrive's 38-year history. "God has equipped me along the way and I've learned so much."
New ways to address abortion
How has the ministry changed under Fogerty's leadership? She has moved Thrive out of the era of the Yellow Pages. Now, Thrive reaches clients on their cell phones through strategic online advertising. But the evolution is bigger than that. Thrive was already saving babies from abortion before her arrival, but Fogerty led the ministry into a new era of addressing deeper dimensions of the life issue with its clients—dimensions such as open adoption, equipping and honoring families who choose life, and preventing unplanned pregnancies in the first place.
Fogerty wanted more clients to consider adoption as an alternative to abortion. To help remove the stigma of secrecy and shame, she helped found Bravelove in 2012. The non-profit frames adoption as a selfless act of sacrifice that can allow a mother to maintain a lifelong relationship with her child.
Fogerty believes Thrive's job isn't done after clients choose life. One way she has acted on this belief is by developing, with her client services team, a robust program of educational courses and mentorships with new parents. Through these sessions, clients can earn enough baby supplies to cover the first two years of life. The program has grown to provide about 700 sessions each year. Men are also an important factor in the decision to abort. They need to hear they have a voice in the decision and feel equipped for fatherhood. Because of this, the men's ministry team had 88 mentoring sessions in the first half of 2021 alone.
To honor clients who choose life, Fogerty initiated a new tradition of client parties at Christmas and Mother's
Day. Fogerty treasures the times at these parties where she gets to visit with flourishing families. Fogerty also wants Thrive to become a force to PREVENT unplanned pregnancies in the region. Her medical team developed the OhKnow Education program that reaches about 2,400 students each semester in public and private schools. By teaching fetal development and sexual risk aversion, OhKnow can foster a generation that honors sex as God intended and considers abortion unthinkable.
That's the kind of innovation Fogerty embraces. "This ministry is never stale," Fogerty says. "God is always bringing new opportunities. I truly believe if you're not growing, you're dying." When the opportunity arose to open a fourth clinic in a key area of Irving in 2018, she worked with the board to open the new location. When international partners reached out in 2019, she mentored leaders launching pregnancy centers in Uganda, Kenya and Chile.
When COVID-19 hit in 2020, Fogerty empowered staff to initiate telemedicine, virtual mentorships, and even a drive-through Christmas experience. Once again, she was on the frontlines. "I talked my husband into wearing an elf costume
with me so we could dance and greet our clients as their cars drove by," she chuckled.
Now, it is time for Fogerty to step out in a new direction. She will work with the board to secure new leadership and retire from Thrive by the end of 2021. She will take a long break and spend time with family, including three grown children. She'll likely keep a toe in prolife ministry, and she will always have a heart to help young mothers. In fact, she feels Thrive has expanded her own sense of motherhood. "I call Thrive my fourth child," she says. "I've poured into it, nurtured it, and watched it grow up. The people involved in it are my extended family. It will always be a part of me."

MARY JAYNE'S WORDS
On Stewardship:
"When people are sacrificing to give, you look at money differently. Thrive has met budget every single year since I started. (The only exception is the year we opened our fourth clinic in Irving. We forecasted that we would take a year to get back on track, and we did.) Over the years, God continually showed me that Thrive was His ministry and provided for our financial needs through unusual ways, not what was always expected."
On Her Village:
"The community of pro-life leaders in our area and around the world has been a blessing to me personally. They are some of the greatest people I have ever met with hearts full for our mission. I love the relationships—with staff, volunteers, donors, and partners. God has broadened my world a thousand times. How often do you get to work with people who all have the same passion and who will pray with you? It's all a puzzle God works together. I'm just one piece of it."