JOIN US! …OR, LEAVE A SPECIAL NOTE BELOW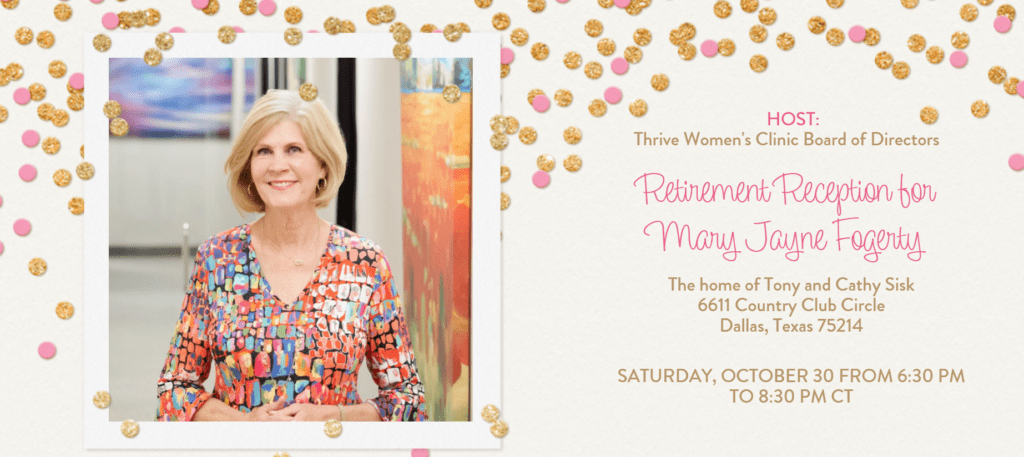 If you can't join us at the reception, please leave a note here for Mary Jayne.
She would love to hear your memories, special blessings for her future, or wisdom gleaned from her leadership and friendship. You can make your note public or private. She would also love photos of memories with her, or just of you and your family.
If you would like to make a short video with our super-easy video tool, click here.
Please note: You cannot edit your note once submitted. If you have any problems with your entry, contact ekuhnel@vinekeepers.org.
Leave a message for Mary Jayne
Michaela Kraft
It has been such a sweet gift to see how you have led this ministry, and to see the impact you have made on this community, on the mothers that walk through these doors, and on the staff that you guide. It is easy to see how much you care about every person you come into contact with, and Thrive has been so lucky to have you lead this ministry for so many years. We are all so excited for you in this next chapter, and will be thinking about you often!
Vicki Keifer
Mary Jayne,
What a blessing you have been to Thrive and to me! Thank you for hiring me during the pandemic and teaching me so much about Godly leadership! I love your heart for God's most vulnerable and your drive for excellence.
"Who saved us and called us to a holy calling, not because of our works but because of his own purpose and grace, which he gave us in Christ Jesus before the ages began." 2 Timothy 1:9
You are a wonderful example to others about saying YES to God when He called you to service! You stepped out in faith when asked to serve as Executive Director, allowing God to use your unique talents and skills to bless Thrive in such a beautiful and impactful way for HIS glory!
It's been wonderful working with you and I will miss serving alongside you here at Thrive every day. It's my prayer that you enjoy your retirement and are blessed with sweet new opportunities to serve God! Please keep in touch!
Kay Morton
My Very Dear Mary Jayne,
My Dear Mary Jayne,
It has been a joy to serve with you at Thrive. You have shown perseverance throughout your tenure, excellence as a leader, wisdom in decisions, unwavering commitment to Thrive, and respected as our Executive Director. Thank you for your years of service!
Kay Morton, Former Director of Clinic Services
Karen Rooker
My dear friend, I'm so thankful for you, first of all for being obedient to the Lord from the time I first met you in college.  Your obedience led you to take the time to pour out Christ's love into my life and gently lead me to my Savior.  My life was changed forever and I am eternally grateful that my path intersected with yours!  Your mission started there and you have been true to that mission your whole life, faithfully sharing the hope and love of Jesus and following Him in a way that was not only inspiring and life giving to me, but for countless others. You may be retiring, but I feel confident you will never retire or retreat from being a champion for life and spreading the love of Jesus! I love you, friend, and I look forward to spending more time with you soon.
Congratulations on a job well done!
Love you so much!
Amy Simmons Crafton
Mary Jane
You have been such a role more for so many over all the years. Thank you for opening my eyes years ago to investing in things that make a difference in the lives of others. This is the end of a great era for you. I am excited to see how the LORD will use you in the next stage of your life.
Much love,
Amy Simmons Crafton
Vicki Germer
Mary Jayne, I'm sorry I can't come to your reception. We all love you so much and appreciate everything you have done for Thrive. You have gone above and beyond anyone's expectations I believe. I pray your retirement is a blessed one, and that you continue to allow God to use you in beautiful ways. Love ya, Vicki
David & Amy Walz
Mary Jane,
Thank you for your tremendous compassion for and work on behalf of the hurting women in our community. It is so clear that God gifted you uniquely for the role you have filled all these years. It has been a pleasure to serve along side you as supporters of Thrive. We anticipate God has more great adventures for you ahead! Many blessings to you.
Cindy Pardue
What a privilege and pleasure it has been working with you, Mary Jayne! Your heart for women, (often going the extra mile for them), your enthusiasm and joy over every baby and momma saved, your tireless work ethic and care for the staff and volunteers and the way you have always made it a point to lead us humbly back to Jesus are the legacies you have built. Thrive is stronger and more impactful because of your passionate leadership. You will be missed, but your handprint of excellence remains with us. I can't wait to see where God will use your many gifts in "retirement". I doubt you will be twiddling your thumbs! Blessings on the adventures ahead. I'm so very grateful for you.
Cathy Cummings
Mary Jayne - what a gift you have been to Thrive Women's Clinic and to the cause for babies, mothers, families and souls for the kingdom! You have modeled it well! I'm praying this next chapter of life brings you joys you aren't even expecting!!
God Bless you!
Ansley Craine
Blessings to you in your next phase in life! You did a wonderful job at Thrive.
Love, Ansley
The Souzas
Congratulations Mary Jayne on all you've accomplished during your time as Executive Director! You have faithfully stood for life and impacted generations of families in this city. By the grace of God, you've left an amazing legacy on Thrive, its staff, volunteers and clients. We thank you for the opportunity you gave me and the support you provided for our family throughout the years. I'll never forget your willingness to support Lindsey and I as we struggled to afford her skin treatments. God bless you in the upcoming chapter and may you continue to run the race marked out for you each day!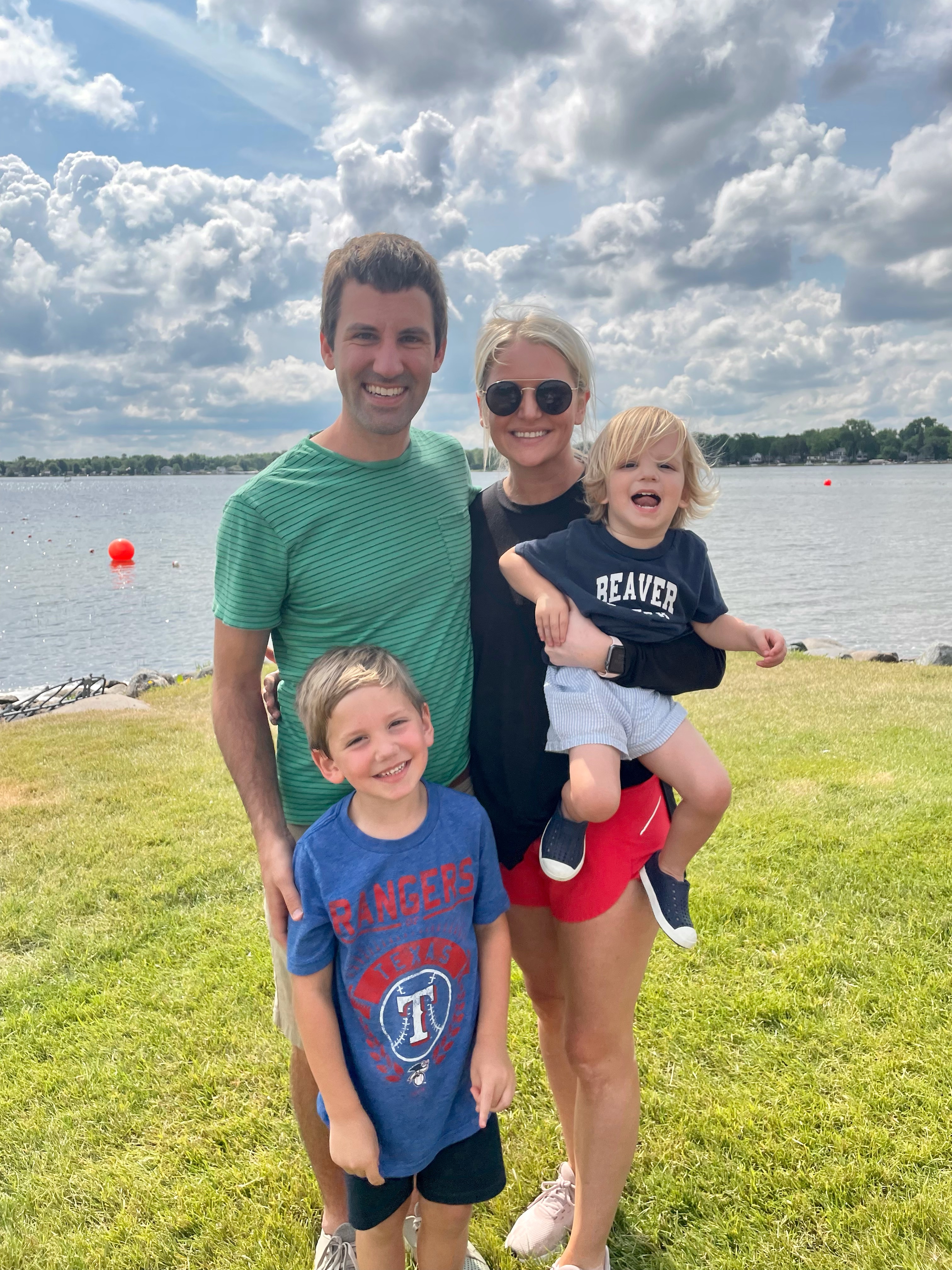 Brad Baker
Mary Jayne,
I'm sorry we can't be with you at your retirement reception! You so deserve this. Annette and I thank you for your tireless leadership of Thrive through the years and your unending work for the unborn. It has been a honor to have a small part in the work of Thrive and it was especially a pleasure working with you and your staff at many fundraising events. May God bless you and your family.
Ross R. Mason
Mary Jayne:
Congratulations on your upcoming retirement! I really admire the purpose for Thrive and I'm sure with your leadership it has provided a reliable solution for many, many women. It's such a privilege to know you and your family.
Thank you, Jayne for everything you have done for Thrive and the Dallas community.
Ross
Eric & Sus.Metaxas
Mary Jayne! Susanne and I thank God for you and for Bruce. Your faithfulness over the years in doing this most important work is an encouragement to all who are blessed to know you. God has blessed you and will continue to bless you. All our love, Eric and Susanne Metaxas
Kelly O
Mary Jayne,
Thank you for all you have done to save lives and encourage young families in Dallas. May God bless you.
Kelly
Libby Boggess
Dear Mary Jane,
It has been such a privilege to be at Thrive under your godly leadership for all these years. You have led us with wisdom, love, and perseverance.
It's been wonderful to see how supportive Bruce has been as well.
I'll miss you but so happy for you that you'll have more time for your sweet family.
Love, Libby
Robin Hogan
Oh, my dear Mary Jayne. Congratulations on your retirement after so many years of unmatched service to Thrive. I am so honored to know you and to have worked with you, and I look forward to many years of friendship. I could not be happier for you and wish you all the best, always. You set the bar high, my friend, and you will be sorely, sorely missed!
Lisa Harris
Mary Jayne,
Thank you for the faithful, energetic, creative, and wise leadership you have given Thrive over these many years. You clearly illustrate Galatians 6:9 in not growing weary in doing good. One of your rewards will be one day meeting all those saved through the far reaching ministry you led.
Blessings on your future endeavors,
Lisa Harris
Holly Haswell
Mary Jayne,
Thank you for your many years of dedication to Thrive. What a legacy!! It was an honor to serve at Thrive. I will always be grateful for the opportunity to complete my practicum there. Thrive is the entire reason I became a counselor! Your legacy is wider spread than you will ever know. Job well done good and faithful servant.
Kindest Regards & Best Wishes for your future,
Holly Smith-Haswell
Cindy Weber
Dear Mary Jayne
What an inspiration you have been for so many people, including me. Your passion for LIFE and your leadership at Thrive have been exemplary. And, I especially appreciate your sweet friendship.
I pray that the Lord will bless you during this next chapter of life.
Love
Cindy Weber
Jill Rosales
Mary Jayne, you are leaving very big shoes to fill. I hope you know that. You have been an amazing boss to have. You make work fun and always find time to show us your appreciation. You work as tirelessly for the unborn as well as your staff and it shows. You have brought Thrive so far in the years you have been at the helm, it's incredible when looking back 17 years to now. It is bittersweet to have you go off and retire but you definitely deserve to enjoy more time with your family and do all the things you love to do. I am so thankful to have worked with you and watched God provide for this ministry daily. You are an inspiration to many and have much to be proud of as your legacy. Congratulations and best wishes always.
Clare Smitham
It has been a joy to know and serve with Mary Jayne at Thrive. I am so thankful to God for her commitment, faithfulness, and love for Life. Countless men, women, and children have been touched by her leadership, service, and dedication. Her ministry will be remembered through the Lives saved and Lives made in Christ. She has pioneered to make ending the life of the unborn unthinkable here in Dallas and beyond. We love you!
Cathy Lawson
Congratulation on your retirement, Mary Jayne! You've accomplished so much in this ministry over 17 years, with many challenges along the way. You can be very proud of all your career's success and achievements. But the biggest challenge of your retired life is about to begin – finding something challenging to do. Enjoy time with your family, friends and hobbies. I'll miss your energy and enthusiasm.
Emily Kuhnel
Thank you for being the boss who always had an open door and an open ear to try new things. Your faith often inspired me. Whenever I was worried something wouldn't work, wouldn't bring enough clients, or wouldn't raise enough money, you always reminded me God would come through! Beyond the office your family has blessed mine at every stage. (We won't forget the COVID Fourth of July in Miss Mary Jayne's pool, which was just as good as any parade!) I LOVE when you say, "This Christian life is an adventure!" I think we share that view. I can't wait to see what adventure He has for you next! Remember this photo? I knew from this day on, it would be fun to work with Mary Jayne!